Virogin's R&D team announced good news just after New Year's Eve in 2023.
Virogin's global R&D team released the preprint of "HSV-1 Oncolytic Virus Targeting CEACAM6-Expressing Tumors Using a Bispecific T Cell Engager" on BioRxiv.
This article focuses on the latest research progress of the company's newest generation of oncolytic virus product VG301 (product code "VG21306") that demonstrates the robust research capabilities of Virogin's global R&D team in the field of oncolytic viruses.
Oncolytic virotherapy is a potent weapon in cancer therapy. Virogin developed the novel VG301 (VG21306) oncolytic virus based on the TTDR HSV-1 virus backbone with the addition of a bispecific T-cell engager targeting CD3 and CEACAM6.
VG301 locally expresses T-cell engager in the tumor mass, which not only tackles the problem of solid tumor penetration for bispecific antibodies, but also mitigates the systemic risk of on-target, off-tumor toxicity.
In the research article, both in vitro and in vivo testing demonstrated VG301's expression of a functional T-cell engager capable of binding CD3 and CEACAM6. The addition of bispecific antibodies is shown to enhance anti-tumor efficacy of oncolytic viruses against CEACAM6 overexpressing tumors cells. Even for tumor cells lacking CEACAM6 expression, the T cell engager as oncolytic virus payload was shown to induce bystander killing and engage exhausted T cells, therefore inducing tumor cell death. In terms of safety, the bispecific antibodies expressed locally demonstrate no binding to normal tissue, nor leakage into the bloodstream.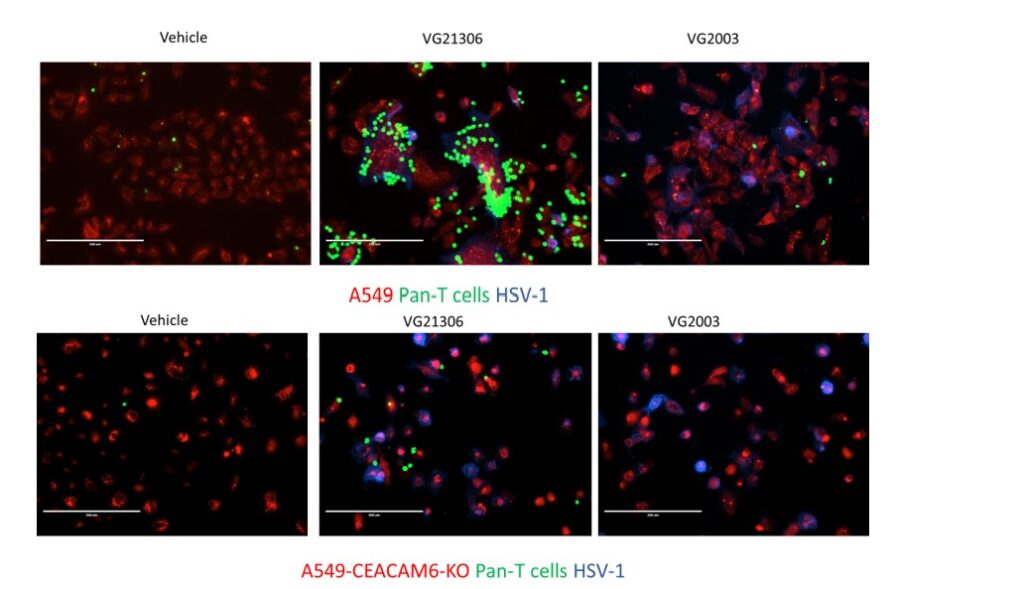 Figure 1: Effect of VG21306 (VG301) in A549-CEACAM6-knockout (red dye) and T cell (green dye) co-culture system.

Figure 2: VG301 enhances T-cell activation in animal studies.
Figure 3: Detection of UCHT-2-03 engager in tumor and circulating blood indicates payload engager is only restricted to the injected tumors.
Research evidence points out that VG301, as Virogin's next-generation oncolytic virus, is designed to target CEACAM6-expressing tumors through T-cell engager payloads. Besides offering the full therapeutic benefits of an Oncolytic Virus, this new Oncolytic Virus offers extra efficacy by expressing the T-cell engager in the tumor microenvironment.
"The expression of T-cell engager by our oncolytic virus is a manifestation of Virogin's strategy to remodel anti-viral immunity into anti-tumor immunity. This is the next-generation product after the TTDR (Transcriptional and Translational Dual-Regulated) oncolytic virus," said Dr. William Wei-Guo Jia, Chief Scientific Officer of Virogin Biotech.
Intratumoral replication of Oncolytic Virus will induce T cell infiltration, but the main function of those T cells is to attack virus-infected cells in the tumor mass. Using T-cell engager expressed by the Oncolytic Virus can redirect these T cells to target the non-infected tumor cells, therefore achieving the anti-tumor efficacy.
Oncolytic virus with T-cell engager payload platform established by Virogin is highly tumor-specific and reduces systemic toxicity of traditional bispecific T-cell engager antibody treatments, thus yielded unique and promising results for immuno-oncotherapy.
Link to the Article: HSV-1 Oncolytic Virus Targeting CEACAM6-Expressing Tumors Using a Bispecific T-Cell Engager | bioRxiv
About Virogin Biotech:
Virogin is developing two different platforms that are highly complementary: an oncolytic HSV-1 platform armed with multiple therapeutic payloads and genomic regulation to increase oncolytic effect and modulate the tumor microenvironment; and a discovery-stage mRNA tumor vaccine platform consisting of tumor vaccines to be used in combination with oncolytic viruses to augment anti-tumor activity.